Is that over and over again you mourn your healthier body. Last night after speaking with one of my doctors I've been told they're reasonably assured I have another chronic condition.
Another. Chronic. FUCKING. Condition.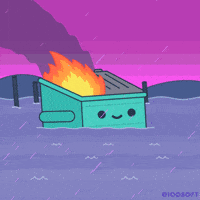 I've about McFucking had it with being Chronically ill. It's only in the last 20 years or so that the link between health and mental health has been prominent.
It can be incredibly isolating, and scary and confusing. I'm thankful and lucky to have a support system but even with all of us the medical system is so woefully impeded at every possible turn in order for the medical industry to turn a fat profit.
As I write this having woken up already nauseous and gotten out of bed because it hurts to lay down with a fresh diagnosis rattling around in my head I am feeling just a little bit forlorn and throwing perhaps not a pity party but maybe a pity pot luck, I also feel frustrated and angry.
Many people I know have to go through this process over and over again, some because of their weight, which has been a factor for me. Doctors will ignore anything wrong with overweight people. Which leads to tons of undiagnosed problems, and in many cases serious illnesses missed.
In the last year, I've lost about 150 lb, as I've been saying to friends "Don't get me wrong – I'm still fat as fuck, but erring closer to average American obesity rather than TLC series obesity. I eat my feelings, and clearly, I've had a lot of fucking feelings. Every doctor has congratulated me on this that I have seen, and I don't think it is bad on the face of it – however I lost this weight because I have been too sick to eat or keep food in my system for more than 20 minutes on some days, with regularity.
Just last month was literally one of the happiest days I can remember in a long time, I went out with my mother and sister to my favorite comic book store in the world and got a warm hug and an invitation from someone I'd dare even call a friend.
Then we went to the beach in Asbury Park – I've never been to that boardwalk and it was beautiful and accessible!! I was overjoyed to participate in summer activities with my wheelchair that I hadn't taken part in for some time, and I was even able to walk around a bit without my cane!
Then I compare that to this morning, fighting off a new infection, my hips, lumbar and neck already screaming before breakfast, which I can't eat, the slight termors in my dominant hand, the migraine looming just under my temples, and I just feel pissed off and defeated and scared.
The only way forward for me personally is forging on to treat and abate the symptoms and try to give my wrecked immune system some healing in any small way. Mostly this is just an update about how I'm sicker, but still alive.
I also want to give a shoutout to @butyoudontlooksick on Instagram who I've started volunteering with as their Press team lead.
I am trying to take this pain and make it useful, I've been giving BYDLS all my extra spoons and I think they're doing something really great, more than any of us can really conceptualize. Helping others feel less alone by being open and honest about all my bullshit is a tiny step personally, but if it helps even one person feel less alone in a body that is failing them over and over, why the fuck not?